Short Message Service (SMS) is a very effective commmunication platform. It is an excellent medium for connecting and engaging your customers and prospects. You can use SMS to advertise your products and services, disseminate urgent information, remind people of appointments, and even conduct voting or survey via SMS.
Our software team has vast experiences in developing and deploying software systems that utilize global mobile communication standards & technologies such GSM, GPRS and SMS. In Lexel, we understand the impact of technology on businesses. Therefore, our software products are designed to support business operations seamlessly.
Our product, MoCo SMS Suite, is a PC-based SMS software that allows you to send and receive SMS from PC via usb gsm/gprs modem and our Internet SMS Gateway. But MoCo is not just a simple sms broadcasting tool. It can do a lot more than just sms broadcast.
You may ask, how does MoCo SMS Suite stands out from other similar product? The simple answer is, MoCo is not just a SMS Broadcast tool. MoCo is a 4-in-1 Customer Relationship Management (CRM), Accounts Management, SMS Marketing ans SMS Reminder solution which provides everything you need for a business IT solution. With our case studies and our SMS Marketing Guide, we offer you a complete Customer Management and SMS marketing strategy and solution!
View our gallery for the screen captures of MoCo SMS Suite!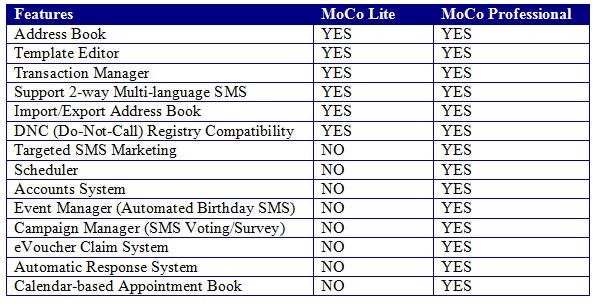 There are different editions of MoCo catering to different needs and sectors. Whether you are looking for a cheap sms marketing software, or a comprehensive 2-way sms solution, MoCo SMS Suite offers the ideal solution for you!
Contact us now to arrange for a free product demo at your site!
Our Products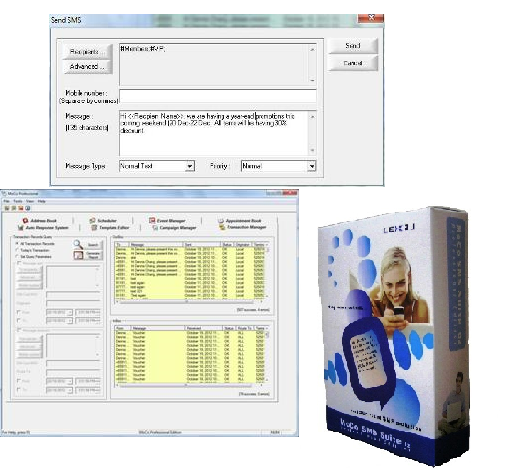 Looking for a cheapest way to do SMS broadcast? MoCo SMS Suite Lite Edition is just the sms software you need. No expensive SMS servers, no monthly subscription fee, no need to reveal your customer database to third-party companies.
»