MoCo™ SMS Suite Enterprise Edition is a complete business SMS solution designed for enterprise-wide deployment.
MoCo™ Enterprise Edition consists of a MoCo Server software and unlimited number of MoCo™ Agents software. The architecture enables the functionalities of MoCo™ to be shared among various computers at a very low cost. It is most suitable for deploying business sms solutions for corporates.
The architecture of the Enterprise Edition allows business SMS solution to be shared among a network of users while preserving the privacy of each user's database.
MoCo™ Enterprise Edition has all the features offered by MoCo™ Professional Edition.
Contact us now for a free demo and consultation.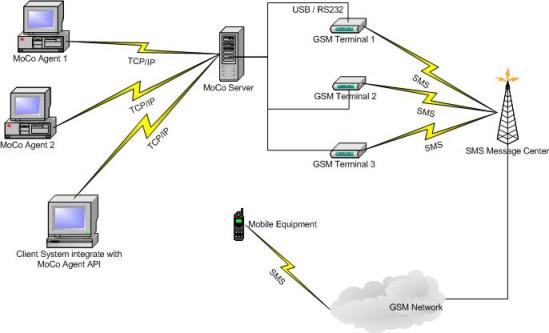 SMS Rates
Our rates for sending SMS to Singapore numbers is S$0.04 per SMS.
Application Areas
MoCo™ SMS Suite G2 Enterprise Edition can be deployed on the following areas:
Insurance companies
Real Estate companies
Marketing Department of Corporations
Academic Institutions
Building Managements
And many more.......
Contact us now for a free demo and consultation.