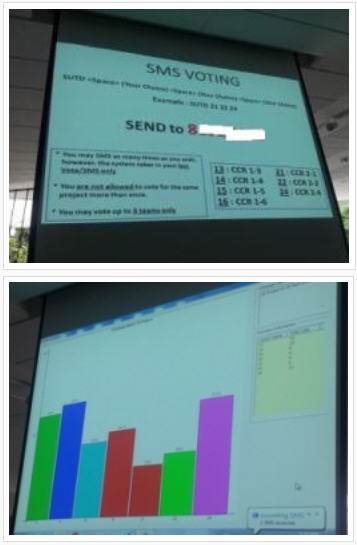 Thinking of having a LIVE SMS Voting, Contest or Survey session? We provide everything you need at a very low cost!
A Live SMS Voting session is a live event whereby your target audience can sms their votes to a designated number, with the result being tabulated at real-time and displayed out live. A Live SMS Voting session is an excellent way of engaging your target audience and thus enhancing your brand.
What we provide:
A laptop loaded with MoCo SMS Suite, configured to satisfy your requirements.
A mobile number to which your target audience can send their sms.
A technical personnel to setup and manage the system throughout the whole event.
What you can get during or at the end of the event:
Live SMS Voting/Contest/Survey results in graphical form (Eg. Bar chart).
Campaign Reports in MS Excel and HTML formats.
You can opt for our system to send automated replies upon incoming sms.
Valuable audience feedback and engagement.
Enhancement to your Brand Name.
Our Strengths:
Our SMS Voting System is extremely flexible and customizable to your specific needs.
You can choose to ignore duplicated votes, limit number of votes per mobile number or take into account only the latest vote.
Real-time tabulation of votes. You can see the voting result changing constantly.
Contact us now for any Live SMS Voting services you desired and we shall device a suitable package for you.